Sharon Jones, 60, is a former nurse from Shaw in Oldham.
"I was ill for around eight years and felt very up and down. Before having the treatment, I'd stopped going out and had no life. I wanted to stay in bed and just having a shower felt overwhelming.
"I'd tried more-or-less every anti-depressant and had lots of cognitive behaviour therapy, but it wasn't working. When I reached a really low point I had ECT (electroconvulsive therapy), which brought me back to a safe level, but I still wasn't enjoying life.
"When TMS was suggested, I actually cried. I'd seen it advertised in America and it felt like a lifeline. However, I was also a bit cynical and fearful it might not work.
"The treatment was absolutely brilliant and I was well informed throughout. It was a bit uncomfortable for the first couple of sessions, but it wasn't painful.
"It involved a repetitive tapping, with a few seconds gap before it started again. I'd describe the sensation as being like a woodpecker tapping your head, but it really doesn't hurt. I had absolutely no pain or side effects after the sessions – not even a headache and I drove home after my treatment.
"The staff made me feel so welcome. I chatted to Nichola (the nurse) during the treatment and we often lost track of time.
"After a couple of sessions I felt like it was starting to work, but it was my husband who first started to notice a big difference after about eight sessions. That weekend I made a quiche, which is something I could never have done before the treatment.
"My mind is more positive and I feel able to do more. I'm more sociable and seeing friends, whereas before I just shut myself off.
"I went away to see my daughter get married, which is a big thing. I was a bit anxious about being away from home, but I couldn't have done that before. I'm considering volunteering and am looking after my father-in-law. My family have said it has also made a big difference to them, as it's hard to see someone you love struggling.
"It's reassuring that, if I start to feel low again, I can get in touch to arrange some top-up sessions. It's removed the fear of having to go back on tablets and deal with the side effects.
"I honestly can't find any negatives and I'd definitely recommend it to others. It's 100% made me well and I'm so grateful."
I have suffered from recurrent depression for many years, which can overcome me for no apparent reason, or is triggered by an event that has a significant impact on my life.
My illness has been managed by prescribed medication supported with regular exercise. However, in June 2020, I was involved in a traffic accident and I was knocked from my pedal cycle. I spent weeks immobile due to injuries to my leg, injuries that have not fully healed and I have been told might deteriorate over time. As a result, my mood rapidly deteriorated to a point where I could not envisage a future. I was assessed and eventually referred to a psychiatrist. I had several consultations, and my medication was increased.
Whilst there seemed a gradual improvement in my mental wellbeing, it was short lived to the point where it appeared I was no longer fully benefitting from the medication.
Transcranial Magnetic Stimulation, (TMS), was explained to me as a treatment that could assist. As I understood it a magnetic pulse is targeted towards that part of the brain that affects mood. The pulse stimulates the brain, promoting electrical signals in conveying the chemicals necessary for more content and rational thinking.
I would describe the treatment as unusual and out of the ordinary, but not harmful nor difficult. The staff and consultants were courteous and professional and deserve every recognition for the care they show toward their patients; I had no hesitation in continuing.
In the beginning I did not feel any benefit, indeed after two weeks I hit an obstacle whereby I thought my mood was improving, only for it to dip again within a day or two. I was given no guarantees, but was encouraged by being told this was not unusual, and on some occasions some patients did not feel the benefit until sometime after the treatment had ended.
In my case I had no side effects and felt improvement in my mental health, albeit gradual, around the third week of treatment. This improvement continued after the treatment had finished.
I found my thinking was more rational, which helped me in coming to terms with my position in life; what could I change, what I could not. My will was stronger, and I could take on the negative thoughts that had blighted my life for the previous two years. I am not cured. Depression is an illness that does not go away, but I can now defend myself.
I have been informed that should it be necessary, I would be permitted to have further 'top up' sessions, which is reassuring.
Elizabeth 62, from Oldham
"I am sixty-two years old. I worked as an administrator for the DWP for thirty-two years before retiring on ill health grounds. I was first diagnosed with depression when I was thirty, but feel it is something I have lived with all my life. I have been treated with anti-depressants which have been augmented with other medications and I have had 2 courses of ECT.
"First impressions, the reception was clean, inviting and calming. Staff kind, lovely and very attentive.
"Initial reaction to the treatment - I couldn't imagine what it would feel like, it felt different and quite strange, the knocking on the left side of my head. It felt strange but certanly not unpleasant. By the start of the second treatment, I felt at ease with it.
"Nichola put me at ease immediately. She invited and encouraged me to voice any worries and to ask any questions I might have.
"Any noticeable change was very gradual and occurred about week three. I found I was runinating less. Previously I would ruminating endlessly on death and dying. The guilt and regret I had about the past also started to lift. Previously, I had felt that my whole life had been wasted due to depression.
"The treatment has given me the ability to plan for a better future and make a difference to the quality of my life, It has opened new, positive and more productive ways of thinking. I feel empowered and more resourceful, as if I can make a difference to how I choose to live my life. It has provided me with the ability to see that I have more options in my life choices and I feel more optimistic about the future.
"TMS is not a magic cure, but is empowering and can, with work, make a difference.
"Consultant Dr Kurkar was very supportive, easy to talk to an listened. He was enthusiastic and hopeful about the benefits of TMS which increased my confidence in trying it. I felt enthused in my final TMS session with him because he put into words how I felt it had helped me, when I was a bit nervous and couldn't find the words. An approachable and very kind consultant."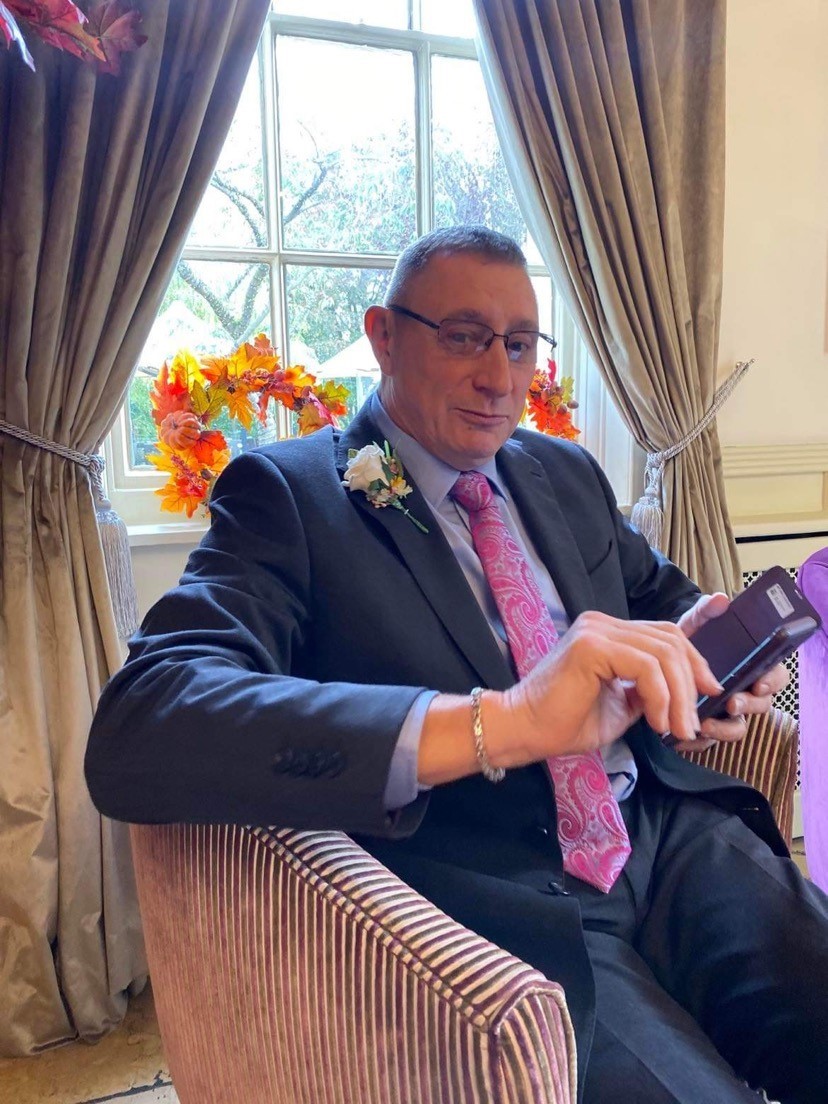 Frank Potts, 61, from Shaw in Oldham says TMS has completely changed his life after facing some huge life challenges.
"I'd suffered with my mental health for a long time, but it all came to a head when I was told I had cancer. It was something I just couldn't process and after it all built up, I went into a serious depression.
"I stopped doing anything; I wouldn't drive, go for a walk, or even leave the house. That's when the psychological team in Oldham mentioned TMS – nothing else had worked so far so I thought I'd go for it.
"I suffer from anxiety, so hearing words like transcranial magnetic stimulation did make it feel like a very daunting thing. But speaking to the team really put me at ease, they were incredibly professional, accommodating and explained every detail.
"I was sceptical after the first session as I didn't feel an effect. But the more sessions I did the more I got used to it and people noticed a difference in me. Family and friends said I seemed happier, and I felt more like me; I was more responsive, and it really did bring me out of the depression.
"The treatment feels like the dwarves from Snow White are just tapping away on the side of your head with their hammers. It feels odd at first, but after a few sessions and reassurance from staff you do start to get used to it and it feels fine.
"It's really changed my life; I've tried various treatments and this and has made the biggest difference. Now my emotions have been brought back out again and I can handle more we've noticed I might have ADHD. I can't tell you what it feels like to have a clear enough head to discover things like this about myself. None of it would be possible without the TMS staff, I'm very grateful."
Karen Holden, 64, from Tottington in Bury
"I've had depression throughout my life, on and off. I'd been feeling low for quite a while and lost my mum in January 2021, which added to everything. I was finding it difficult to lift myself out of my low state.
"I didn't go out much and stopped doing things. It also affected my relationships; my son said I was moody and he felt helpless to do anything. I was staying at home all day. I just wanted the day to go quickly so I could go back to bed.
"I'd tried all sorts of medication that didn't work, or had awful side effects such as weight gain. This made me feel more down, as I felt like I was dragging myself around. I was stuck in a rut and needed a kick start.
"One day I got a phone call from my consultant who asked me to go and see him. He had just been made aware about the brand new TMS. It offered me hope for the future, as I didn't enjoy feeling like that. It felt like a lifeline as I'd tried everything else but my low mood wasn't lifting.
"I was apprehensive, but the treatment was fine. I found the clinic room and waiting area really calming and everything was explained to me by the staff. They were so pleasant and reassuring.
"I saw Nichola (the nurse) the most and she was great. I'd sometimes get a bit upset at the start of the session, but she was so understanding. The tapping on my head from the coil wasn't painful; it was just a strange sensation, which I soon got used to. Nichola and I used to chat and the sessions went really quickly.
"I had no side effects and was able drive home myself. Not relying on other people to drop me off and pick me up really helped increase my independence, which was a mood boost in itself.
"I had 20 sessions of TMS, over four weeks. At the beginning of the treatment I was still up and down. The people around me began to notice that I was improving – my son said I wasn't moody anymore. I was actually the last to notice I was getting better, but apparently this is common.
"I did feel the difference myself by the end. I began doing more around the house and taking dogs out. The difference was remarkable; I felt able to get up and get going.
"I honestly felt I would never see the end of having to take medication, but now I have now stopped all but one and even that's being phased out. I now go to the gym and have lost a stone in weight.
"I feel reassured that I can have a top of the TMS if I need it in the future. It's been an absolute turning point in my life."