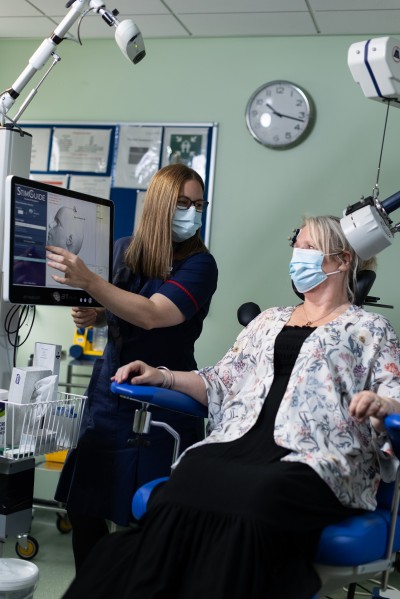 Once we have received your referral, if you meet the basic criteria for having transcranial magnetic stimulation (TMS) we'll send you, or the health professional who referred you, a full assessment form. We can either email a link to an electronic form, or post a copy (email will be quicker and more cost effective).
This two-stage eligibility check is completely free for all patients.
We'll discuss your completed assessment form and if TMS could be right for you, we'll invite you to a face-to-face appointment with one of our psychiatrists. You'll need to allow about an hour for this first appointment.
This appointment will incur a fee for some patients and we'll advise about this before we book you in. There will be no further costs until we're 100% sure TMS is right for you.
Once you start treatment, you will need to attend a daily appointment at our TMS clinic in Oldham, Monday to Friday (excluding bank holidays). Click here for details about our clinic. You'll need to attend for a period of two to six weeks, depending on the type of TMS treatment prescribed for you. We'll discuss this during your first appointment.
Click on the drop down boxes below to find out more what to expect at each treatment appointment.
If you have any questions, please click here to contact us.
You'll need to remove any hearing aids, hairgrips, jewellery including necklaces, earrings and face or tongue studs and anything else containing metal

You can wear your usual clothes and won't need to get changed

You can take your phone into the treatment room, but it will need to be put to one side during treatment

Please have something to eat and drink before your appointment

There will be plenty of time to use the bathroom before your treatment begins

Each treatment session will take about 45 to 50 minutes. If it's going to be any different (depending on the type of TMS you are having), we'll discuss this with you

If you are travelling by car, please allow time to park. Click here for details about pay and display parking at the hospital.
Unless you're exempt, we'll provide you with a mask to wear during your appointment. All staff will also wear a mask. This is to ensure we meet national NHS rules, to protect vulnerable patients.
At the beginning of each treatment, we'll run through a safety checklist with you.
You'll be seated in a comfortable reclining chair and our nurse will place a magnetic coil device on your scalp.
There will be several short pulses, with a gap in between. As the magnetic pulses are delivered, you will hear clicking sounds and feel a tapping sensation. If this is uncomfortable, please let us know. We can provide you with ear plugs and adjust the coil slightly.
You can read, listen to music or watch our wall-mounted TV during your treatment. It's important to keep your head still, but head supports on the chair will help you with this.
One of our TMS nurses will provide your treatment. They will stay with you all the time and can answer any questions or worries you have.
If you'd like to pause or stop the treatment at any point, please just ask.
To help us assess your progress, we may ask you to complete a questionnaire at the end of your session.
As the treatment doesn't need any sedation, you'll be fully awake and alert during the treatment.
This means you won't need any recovery time and can drive and carry on with your usual daily activities immediately after your treatment, such as going to work or shopping.
You'll then come back the next day (Monday to Friday) until the end of your treatment.
After your last treatment session, a range of mood rating scales will be completed by your lead nurse or consultant. You'll also be asked to complete a questionnaire and provide feedback.
You'll attend a review meeting with your lead consultant, which will last 15 to 30 minutes. This will focus on the results from the mood scales, questionnaire, and feedback, which will inform whether further treatment is needed and recommendations.
If it's agreed you don't need further treatment, you'll be discharged, and a letter will be sent to you and your GP.